 Register - Partner - Sell
Register - Partner - Sell
WHY SELL ONLINE
1
Massive growth happening in the online retail market
There is tremendous growth in the adoption of the online sales channel as a way to reach new customers, provide a wider range of products and growing one's business. More and more businesses are adopting online selling.
Minimum investments.

Access to larger customer base to sell anywhere.

Product catalogue not limited by physical space.
2
Receive orders across India any time
One can now extend area of operations to receive orders from every part of India and follow the simple steps for order fullfillment.
Simple dashboard.

Easy promotion of business.

Sale events, advertising and promotions.

Reach more customers faster.
3
Improve business earning, grow quickly
We offer the one of the fastest and secure payments process in the industry – you can receive your payments in as little as 3 days from completed sales transaction.
Quickest payment settlement

Payment settlement report provides all details to track your payments and settlements.
Shupple Partner - Business Growth Track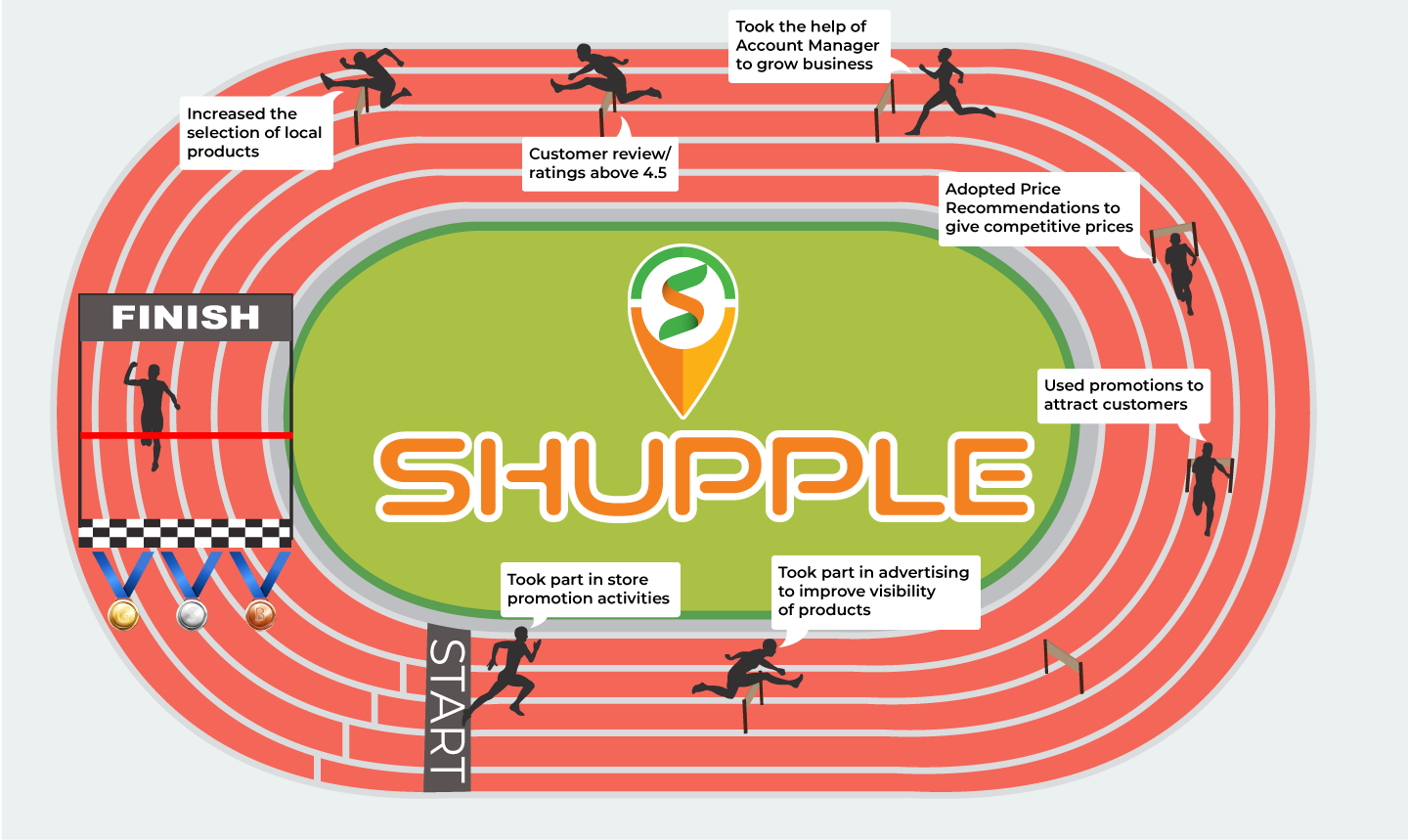 SELL ON SHUPPLE
SHUPPLE Marketplace is leading platform for local sellers to sell online. Whether you are a manufacturer, restaurant, local artisian, local store, vendor or supplier, if you sell a product then you can simply sell all your products online on Shupple. Complete the easy and quick registration process and with absolutely no upfront investment to become an online seller. Our team of partner experts provide exclusive seller workshops, trainings and support to seller team. Shupple focuses on empowering small businesses and local sellers across Mumbai and soon across India.
Selling on Shupple.com is easy and absolutely free. All you need is to follow the quick registration process, activate and list your product catalogue and start selling selling your products.
If you need additional support we can support with 3 rd party service providers who can offer local logistics, product catalogue creation, product photoshoot services, digital marketing and promotion services. Combine these with our reliable and quick payment processing and at the lowest cost of doing business, Shupple thus provides you the best local seller portal available to you. Now make your business online today.